Adventure lovers can't get enough of the Lady of Egypt online slot machine game. Its Egyptian theme is one that has universal appeal for players of all ages. Though it's not directly named for her, the main character of the game strongly resembles Cleopatra. Set in the pyramids of Egypt, the game can get players excited about the topic and interested to learn more about it. When players load the game they will notice that in the background there are pyramids with the late day sun beating down on them.
The symbols on the reels in this game are mummies, a crook and flail, the state of Horus, dogs, snakes, a Cat God and an ankh. A golden sun represents the game's scatter symbol and the wild symbol simply consists of the word "wild."
One of the most unique features of Lady of Egypt is the Speed Spin Active Reels (SSAR.) When a game begins, reels one, two and three are the active reels on the screen. The remaining reels then become secondary and are only activated when players get a winning combination of symbols. When a spin of the reels results in a winning pay line, the SSARS move from their position to a position between the fifth and sixth reels. This also happens if players get a win known as an Expanded Pay. Another winning pay line results in the SSARS moving from in between the fifth and sixth reels to in between the seventh and eighth reels. If it happens again they place themselves after the tenth reel on the game screen. There is a Speed Win Multiplier that gives a player as much as five times the amount of money they would have otherwise won.
When players get three of the scarab jewels on the reels within one spin they get eight spins for free. Getting four of them gets a player scatter pay, which triggers an additional 12 free spins and awards players with ten times the amount they bet. Players that get five of the scarab jewels will get an additional 16 spins for free as well as cash prizes of as 25 times the amount of the bet they placed. In the event that six scarab jewels end up on the reels after a single spin, players get 30 free spins and will win 50 times the amount of their bet. While the free spins bonus round is taking place, players get wild symbols placed on the second, third and fourth reels. These are stacked wilds that can increase a player's winnings. Anywhere from two to four of them may be dropped onto the reels during bonus play.
Lady of Egypt is such a popular slot machine game that it can be played at both online and land based casinos. It is a penny slot in land based casinos, but that has not stopped many players from winning huge amounts on it. Those who have played the game online and at land based casinos will notice that the online version is much more visually impressive.
Though so many slot machines are based on the Egyptian theme, few have been as successful as Lady of Egypt is. The fact that it is available in both land based and online casinos speaks to how popular it is. For many years, Egyptian themed slot machine games have been created for players of all ages to enjoy.
The use of appropriate symbols and characters in the game, along with its unique features and generous bonuses, is one reason why the game has become so popular.
The popularity of Lady of Egypt means that it was only a matter of time before a mobile friendly version of the game was created. With bets ranging from 35¢ to $175, the game is great for casual players and high rollers. Its 3.9% house edge makes the odds of winning the game higher than that of many others.
Due to special features such as the Speed Spin Active Reels, Lady of Egypt is better suited for players who are experienced with slot machines than it is for beginners. The game has a lot to offer players who enjoy special bonus features and is interesting enough to hold a player's attention for an extended period of time. With so many chances to win, as well as guaranteed free spins, Lady of Egypt is a hot commodity in the casino industry.
Though not known for its graphics or sound effects, it is still an impressive game to many. As one of the newer Egyptian themed games on the market it is quickly gaining a following of players spread all over the world. The Egyptian theme is one that is easy for most players to understand and appreciate. It is a great way for players to become immersed in a world they may never get to experience in real life. Countless reviews of the game have shown that not only do players enjoy it, but casino operators understand how appealing the game is.
Lady of Egypt Slot Screenshots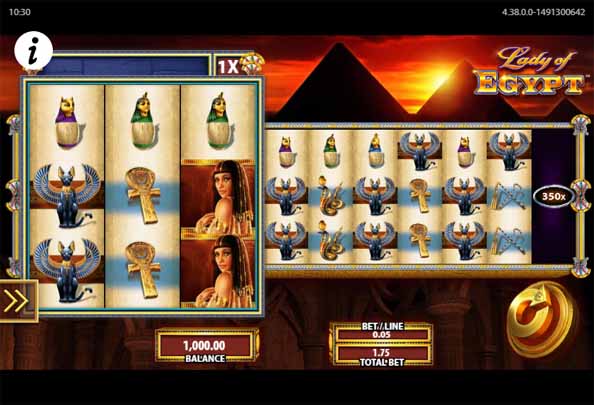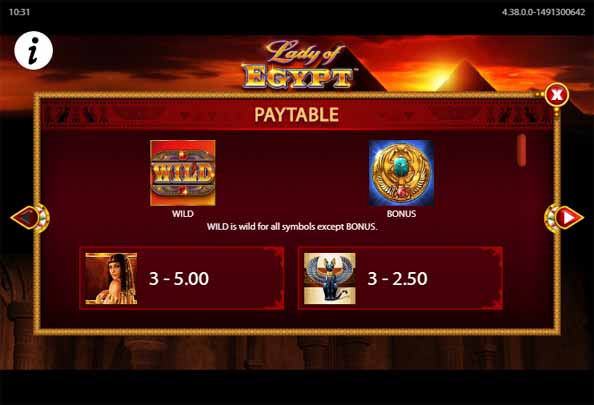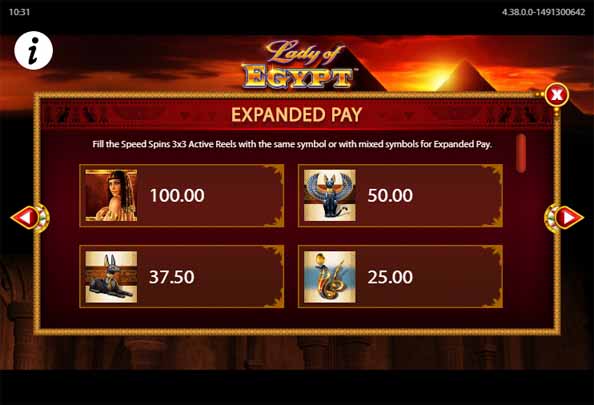 Final Verdict
Whether a player accesses the game in a land based casino, on their mobile device or desktop computer, it provides hours of exciting entertainment that keeps them on the edge of their seats. This value of Lady of Egypt is high because it is a game that so many players are enthusiastic about. This enthusiasm will no doubt help the game continue to rise in popularity. It is a game that anyone can play at any time. More unique than most other slot machines, Lady of Egypt shows players exactly how exciting this type of game can be. As the game continues to attract new players every day, word is spreading that it is one of the best Egyptian themed games a player can spend their money on. This game has proven to be a great choice in entertainment.
Comments
comments