Oh, okay, another Snake and Ladders game….Well, there is more to the popular slot game, Snake, Rattle and Roll from Novomatic than just that.
This is a simple game you will enjoy, perfect for those who are new to the world of online casinos.  If you've never played a slot game for money at an online casino, this is the one you should start with – simple gameplay and easy to get into.
Snake, Rattle and Roll has been developed by Novomatic  one of the biggest gambling companies in the world, founded by billionaire Johann Graf in 1981.  This is a major company with a turnover of over $3 billion. They have a chain of online and offline casinos, in more than 43 countries.
Novomatic develops popular slot games for the casino industry. Any slot game created by them is validated for fairness by independent third party firms – so you can trust them completely.
Where Novomatic really shines is the realism and authenticity that they bring into their online casino slots. Their imagery and graphic design are so stunning that even their snakes look real!
Snake, Rattle and Roll is based on the traditional Snakes and Ladders game. So it is only natural that the bonus rounds are similar to what you get in the original game. The Roll the Dice feature is simple enough – Roll the dice. If you collect the numbers 3 and 5 on the red dice, the bonus gets activated. The bonus in this context means more Free Spins and more cash.
Play Snake, Rattle and Roll for free
Bonus Features
 Free Spins
If there is one bonus feature that all players want to know about – it's Free Spins and how many can you get? With this slot game you can get up to 20, 40 or 50 free spins when you play on the red, blue and yellow set of reels.
Snake Charmer
When there are vicious rattle snakes everywhere, there has to be a snake charmer somewhere. You have one in Snake, Rattle and Roll as well. The Snake Charmer may help out by providing extra wilds to the reel set. So nice of him!
 Snakes & Ladders
You can try your luck and land 3, 4 or 5 scatter symbols. If it's your day, you may move up the ladders, avoid the snakes and collect impressive cash prizes.
 Gamble  
If you're someone who believes in the high risk high reward philosophy, go for the Gamble feature. This will allow you to double the amount you're betting or lose it all. All you have to do is to correctly predict the outcome of the card game being played.
Snake, Rattle and Roll Screenshots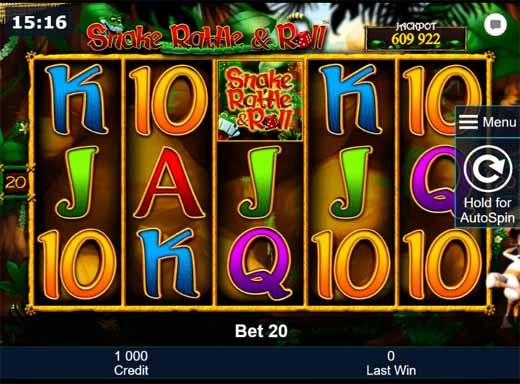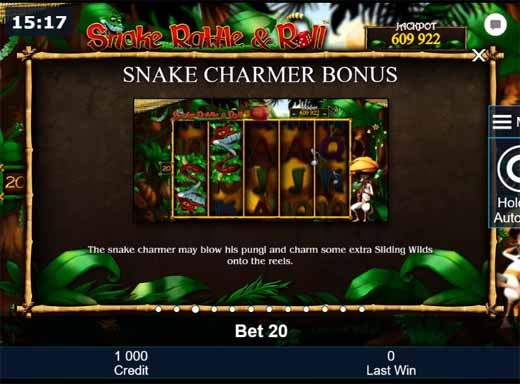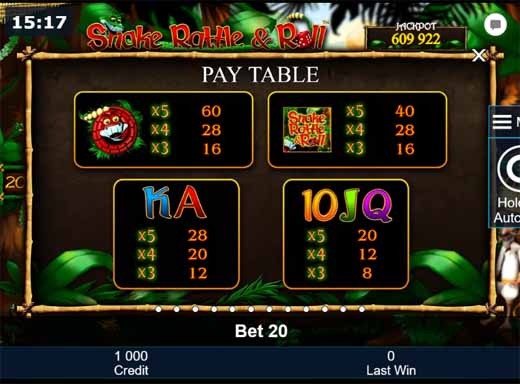 Final Verdict
You will love Snake, Rattle and Roll all the more as it reminds you of the familiar snakes and ladder game you used to play as a kid. The graphics are pretty good – thick jungle with snakes everywhere, what could go wrong! Yes, it is true that there are cash slots that give you much higher payouts. But they are for intermediate or experienced players. For beginners, Snake, Rattle and Roll is ideal – lots of free games, bonuses and other freebies, mini levels and so on.
Comments
comments